Long-term planning
The infrastructure of Zurich Airport is undergoing gradual refurbishment. Following Terminal 2 and Dock B, the core infrastructure Dock A, Dock A apron and the tower have reached the end of their life cycle and have to be renovated or replaced. Dock A and its tower were built at the same time and have now been in daily operation for over 35 years. It is used by around one third of all departing and arriving passengers.
As the structure has remained largely unchanged since it came on stream in 1985, the current Dock A can no longer meet requirements in terms of functionality, sustainability and quality. Following an in-depth analysis, Flughafen Zürich AG has decided to replace Dock A with a new construction to the north of the current building.
Building for future generations
As the current Dock A is essential for airport operations, it cannot be decommissioned. The solution is to construct the new Dock A to the north of the existing dock and prepare it for coming on stream. The current Dock A will then be dismantled once operations have been transferred to the new Dock A.
The new building will comprise the actual dock, the new tower and the dock base, an equilateral triangle. The dock base will connect the Airside Center and the underground passport control hall with the passenger levels in the dock, which will be expanded as part of the project.
Sustainable construction methods and an enhanced experience
The new Dock A will be built largely of sustainable wood on the passenger levels. This is unique for a terminal building of this size. The new dock's roof and the dock base will be used for photovoltaics, covering around two thirds of the dock's annual electricity requirement. The new building will thus make a major contribution to Flughafen Zürich AG's ambitious CO2 reduction strategy.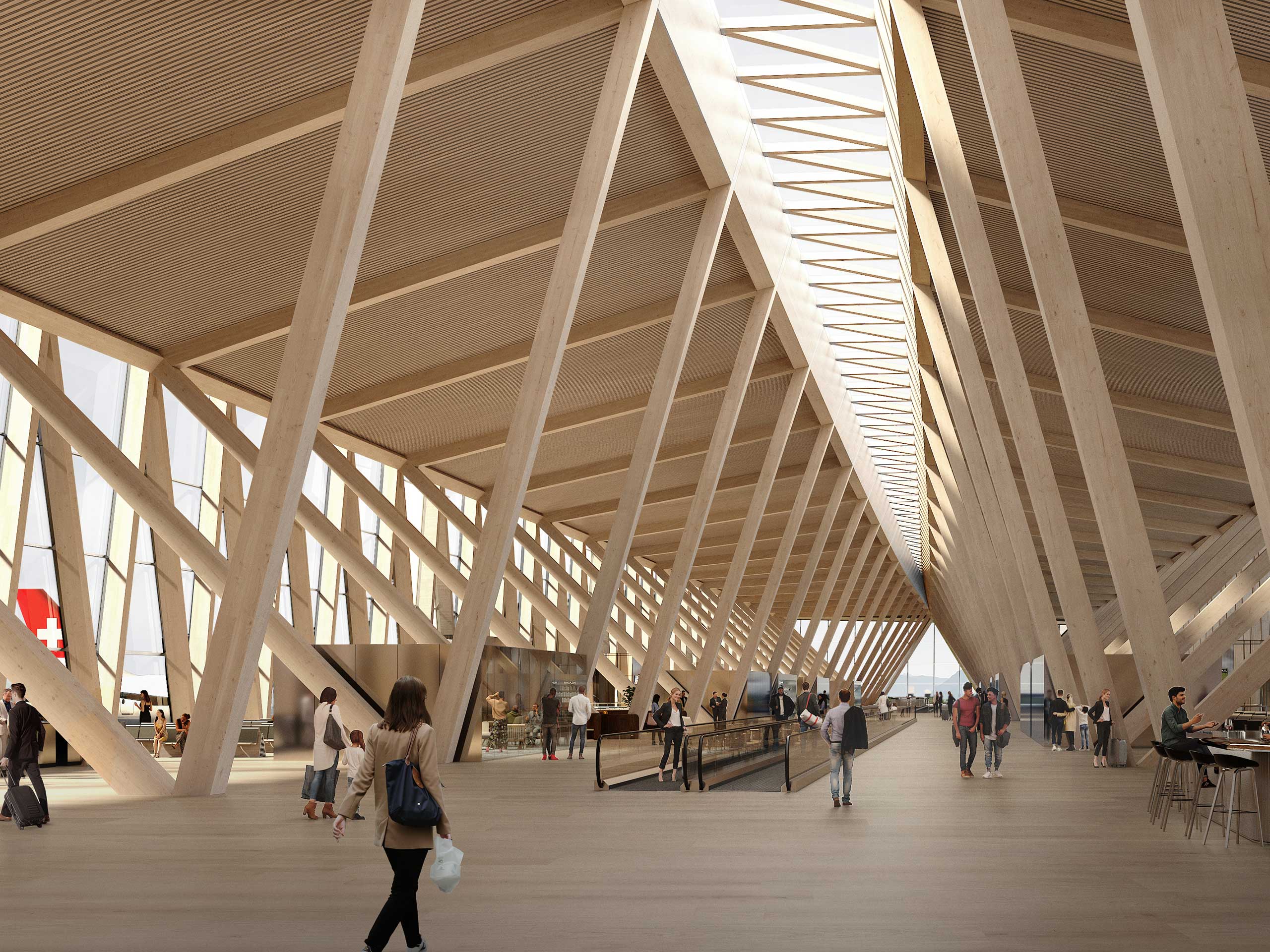 The new Dock A will provide passengers with an enhanced experience, a better view of the apron, thanks to the large windows, and spacious waiting areas at the gates. The retail and culinary offering in the new dock base will also be expanded. The short routes, currently appreciated by passengers at Zurich Airport, will be retained.
| | |
| --- | --- |
| Estimated investment costs | CHF 700 million |
| Project start | 2023 |
Raumfachwerk planning team