A long-term focus on environmental protection
Flughafen Zürich AG ensures environmentally compatible operations and ecologically-friendly development at Zurich Airport, and has been doing so for a long time. The current environmental policy sets the course. Alongside aircraft noise, the following environmental issues in particular are relevant at Zurich Airport:
Climate protection and energy
Air quality
Nature and landscape
Water and soil
Waste and recyclables
Committed to climate protection
Since 1991, Flughafen Zürich AG has reduced its own CO2 emissions by 30%. By 2040, the company strives to reduce its greenhouse gas emissions to net zero.
Environmental management system certified to ISO 14001:2015
Since 2001, Flughafen Zürich AG's environmental management system has been certified to ISO 14001. Key environmental indicators are systematically recorded, areas of action identified and corresponding measures derived. Their efficacy is then checked to ensure continuous improvement.
Environmentally compatible construction
Property alterations and new-builds are crucial to the development of the airport. Old infrastructure needs to be updated so that it continues to meet the contemporary requirements of use, management and environmental protection. Construction projects are therefore assessed as regards their ecological impact, in terms of both the realisation stage and also their eventual use. As such, they receive environmental protection support during construction. The environmental regulations for construction projects stipulated by Flughafen Zurich AG are an integral part of the tender terms and construction contracts and are generally regarded as the environmental standard for the implementation phase. These regulations can be defined in more detail depending on the project.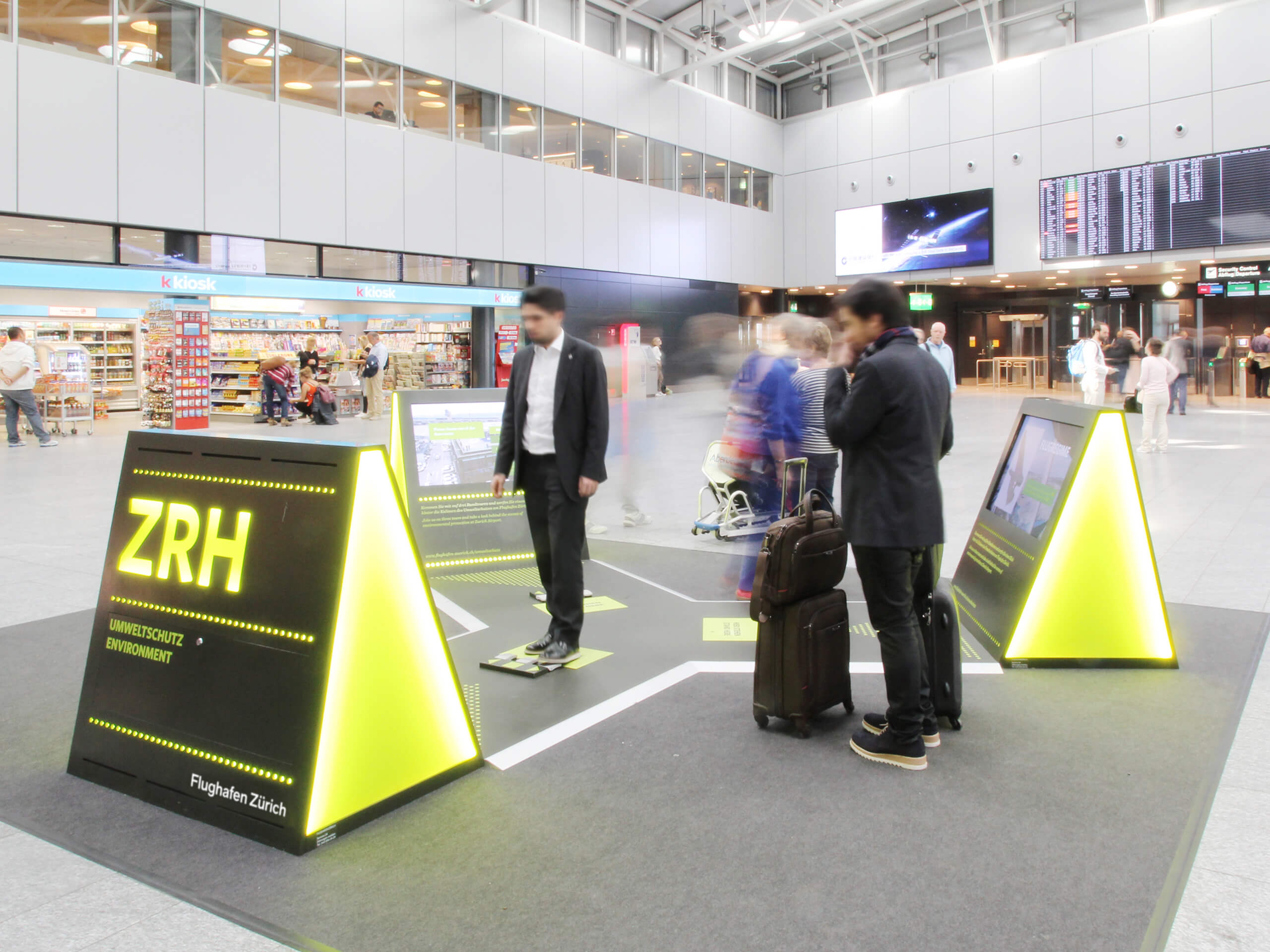 Learn more at the environment exhibition
Take a look behind the scenes
Dive into the fascinating world of environmental protection at Zurich Airport and take a virtual tour around the airport.
Current locations
The environment exhibition will be displayed at various locations at Zurich Airport. It will also be shown at locations outside the airport.
At the airport in the passenger zone in Dock A, floor 1
Documents available for download
Do you have any questions?
The Environment Team will be happy to help you.