High-quality cleaning service from a single source
The Zurich Airport cleaning unit is responsible for ensuring the best-possible, high-quality cleanliness at the airport. Over 300 employees provide a first-class service both day and night at Zurich Airport, which is also available to you as a tenant or visitor. Take advantage of the wide range of services provided by top professionals at and around the airport. Clean offices, qualified full cleaning of floors, windows or furniture, or services of all kinds – as a reliable and professional partner we understand your needs and will prepare a suitable concept for you. Our qualified staff will assist you in each phase of the working relationship. If you need an ad-hoc service, please use the booking tool on this website. The service will be provided within 12 hours, during office working hours. Or use the tool to contact us. We will contact you in person within 24 hours.
We are agile, qualified and close at hand.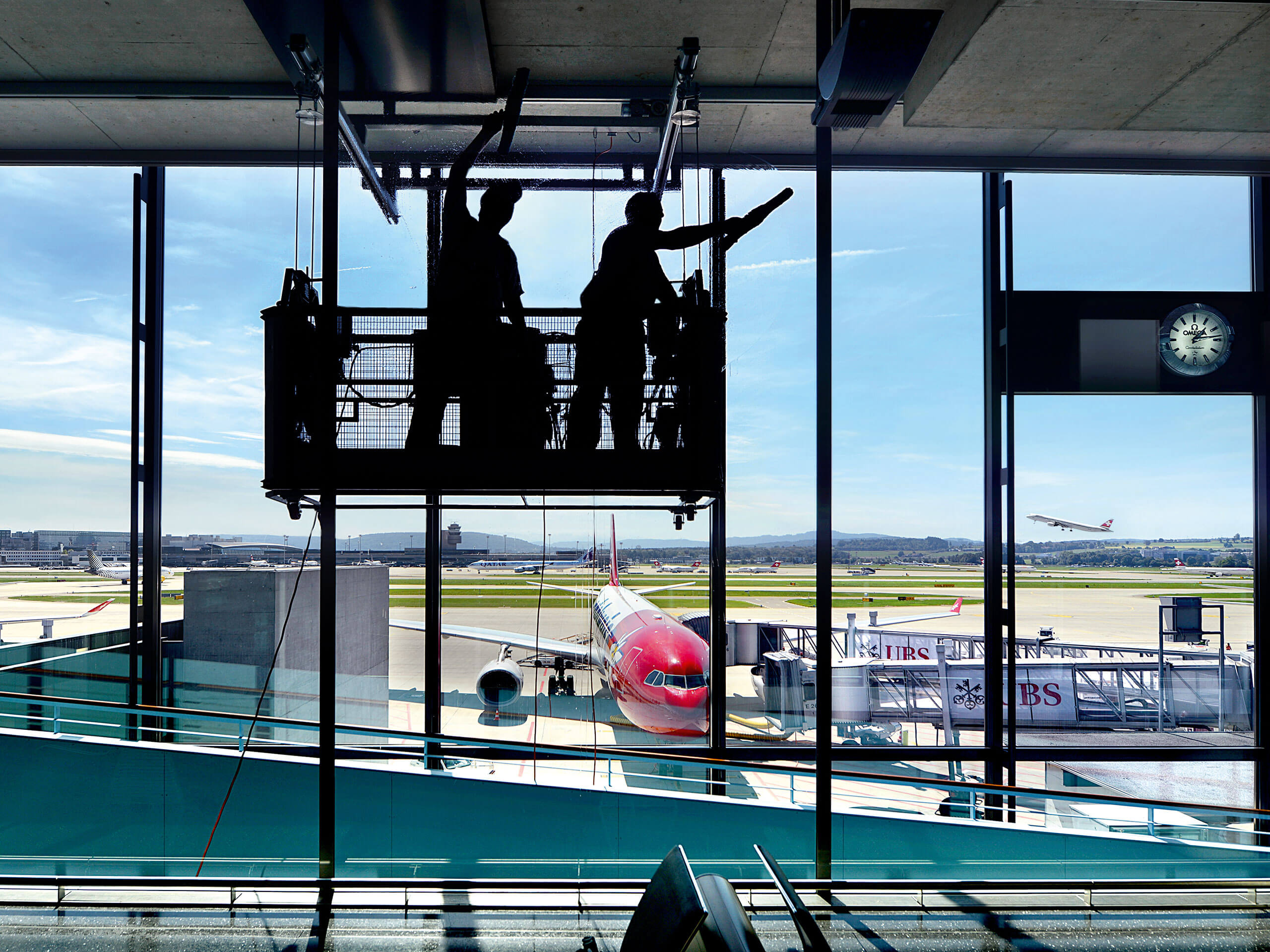 Operational areas

USP

Ad-hoc maintenance cleaning (within 12 hours)

Maintenance cleaning

Full cleaning

Catering cleaning

All kinds of floor cleaning

Building cleaning

Disinfection and hygienic cleaning

Final cleaning

Ceiling cleaning

Facade cleaning

Other cleaning or services upon request

Close by

Round-the-clock availability

Specific airport expertise

Tailored solutions

Services can be combined with synergy effects at the airport

Continuous quality assurance via shift managers and site cleaning managers

Sustainably produced materials

Materials in stock, no delivery delays

2. On-site escalation level

Airport advisory and support team on site and contactable at all times
«Flughafen Zürich AG has been our professional and reliable partner when it comes to cleaning services for many years. In addition to normal maintenance cleaning, they have also always provided support for special requests at short notice. During the Covid-19 pandemic, we were able to quickly adjust our offering to the new requirements.»
- The Nuance Group AG
«We are very happy with Facility Management from Flughafen Zürich AG. Our contacts respond to questions and issues extremely quickly and are always friendly and service-oriented.»
- totemo ag
«The cleaning has been carried out in a professional and reliable way since the very start of our working relationship. The cooperation is professional and always pleasant. When we have questions related to cleaning, we receive an answer or a solution extremely quickly.»
- Protection and Rescue
Do you have any questions?
The Facility Management Team will be happy to help.