Key principles guiding our actions
Our purpose, strategy and values are the three pillars on which the company's success is built.
Our purpose – what drives us
Our airports connect people and places – both regionally and across continents. We seek to create positive experiences in everything we do.
Our strategy - how we achieve our goals
Strong foundations
The cornerstones of our company's success are motivated and professional employees, carefully designed and well-maintained infrastructures, healthy finances and the intelligent use of digital technologies.
Centered on transport hubs
We connect countries and regions to the wider world – in Switzerland, in India and in Latin America. We envisage our airports as modern mobility hubs seamlessly linking different modes of transport.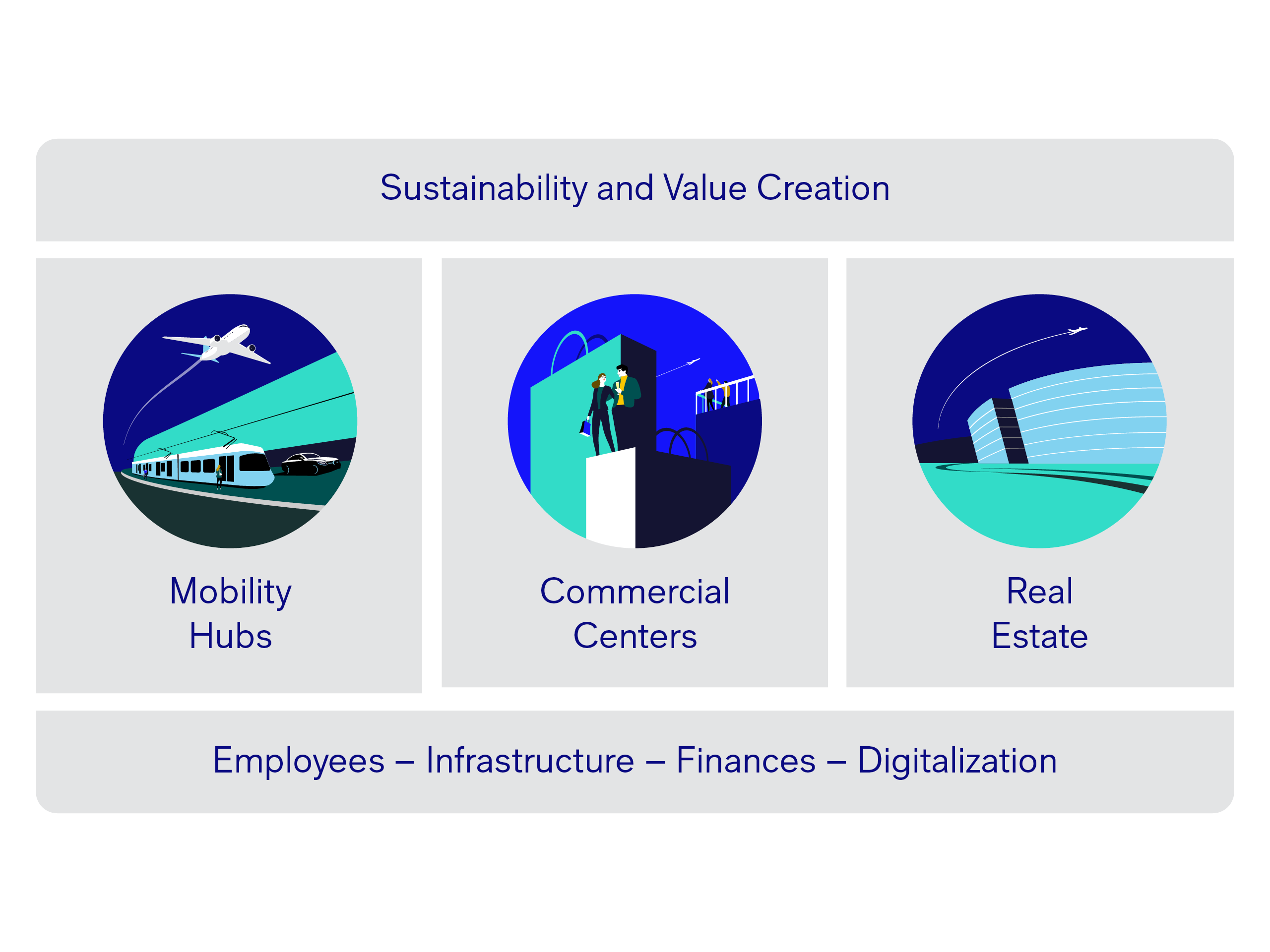 Commercial centers and experiences
A wide-ranging commercial offering creates vibrant go-to destinations that attract high footfall. Our upmarket commercial centers provide attractive locations for brands, events and visitor attractions to deliver positive experiences.
High-quality real estate provides attractive business locations
We invest in high-quality properties with direct access to our mobility hubs which make good operating bases for companies. The revenue generated contributes significantly to the financial stability of our company.
Creating value through sustainable business practices
We firmly believe that the overarching goal of improving long-term shareholder value can only be achieved by running our business sustainably. We therefore take our governance, environmental and social responsibilities extremely seriously.
In our sustainability commitment we pledge to reduce our environmental impact as far as possible, wherever we are able to influence this in our capacity as an airport operator.
Our values – how we work together
Five values bind all our employees and create a strong community and corporate culture. These values foster constructive and respectful dialogue as well as a culture of openness and willingness to embrace change. They also enable us to continually develop as an organisation, as managers, teams and individuals:


C: COLLABORATIVE
O: OPEN
A: AGILE
C: COMMITTED
H: HUMAN